Both teams in the Finals of the American College Cricket National
Championship got there, undefeated.
University of Maryland Baltimore County (UMBC) made the final four in
2010 but has struggled to repeat that success until the 2012 Mid Atlantic
Regionals which they won.
In this Championship Digant Samant and Raghav Bharadwaj,coming into
the Finals had both scored over 200 runs in 5 innings . Gurnish Singh has
excelled with the ball and gave an amazing effort in the final over vs Ohio
State to get his team into the final four.
The University of South Florida Bulls (USF) have been the most consistent
American College Cricket team since March 2009. The Bulls have only lost in the
final four, or the Finals (2009 to Montgomery College, 2012 to York
College).
Their batting line up boasts 2012 Championship MVP Sai Ramesh and MVP
runner up Abdullah Sheikh - the 2 highest run scorers in 2012, plus newcomer
Krunal Bhange, who scored 127* in 73 balls in the 2012 South East
Regionals.Returning as an alumni is former Captain Harsha Boddepalli who scored
the first century, 133, in American College Cricket (in
2010).
But in this Championship their batting has not clicked all at the
same time and in the QuarterFinals vs old rivals Montgomery College, it was up
to the bowling and fielding to give USF the victory in a tight low scoring
match.
So this Sunday at 7 pm, tune into the 24th American College Cricket
match on TV Asia, and watch an exciting Finals for the Shiv Chanderpaul Trophy,
filmed in HD with a 12 camera production, including slow motion replays,
graphics etc.
Commentary by Jamie Lloyd, David Sentance, Tim Shiffiffs, Darren
Stortz and Lloyd Jodah.
TV Asia was started by Amitabh Bachchan in 1992, and is a US
based pay Channel available on DISH Network,and on major Cable systems such as
Cablevision, Time Warner, Comcast Xfinity, Cox, and on Verizon FIOS and A T
& T uverse in the USA, and on Rogers and Bell Canada in Canada. Don't have
TV Asia ? Call 1800 652 2253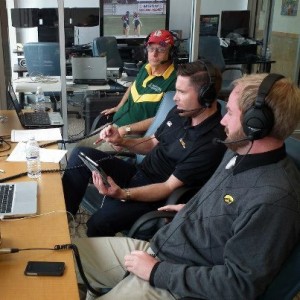 Disclaimer: Please use this channel at your own discretion. These articles are contributed by our users. We are not responsible or liable for any problems related to the utilization of information of these articles.