Centennial High School in Compton's alumni include Dr Dre and
baseball players Tony Franklin, Reggie Smith, and Roy White. Among the many
famous people Compton itself has produced are Venus and Serena Williams ,Ice
Cube, Packers' BJ Raji, Knicks' Tyson Chandler, and former NFL-er and current
ESPN analyst Marcus Wiley. PHOTO : Coach Pickins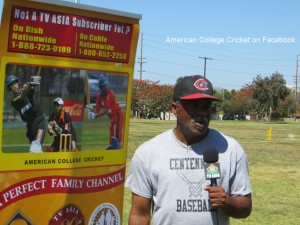 If its up to David Sentance, Coach Gerald Pickins or Mustafa Khan we
could see an American College Cricket star from Compton or Watts. Coach Pickins
believes in the benefit of cross-training the Centennial HS Baseball team in
cricket ! Coach has sent over 35 players to MLB iincluding mega stars such as
Darryl Strawberry,Eric Davis & Coco Crisp so he knows what's talking about
!
On Saturday April 20, working with American College Cricket's David
Sentance and covered by TV Asia's cameras Coach Perkins' HS Baseball boys met a
touring team of Australians boys (aged over 60 years) for some coaching, fun and
a brief cricket match. As David described it,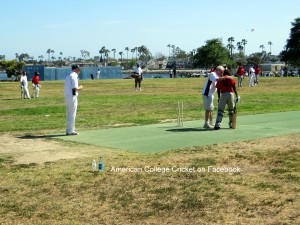 "Aussie cricket coaches teaching Watts youngsters
cricket, Compton baseballers playing cricket to cross train and finished off
with a 60+ cricket game, all are something to celebrate. The finest touch, Mama
Sheen singing Kookaboro along with the Aussies as she cradled her gift of a
Kookaboro in her arms. Special day, the hood coming together as a Long Beach
police helicopter flew above to
witness."

Sentance has for years taught cricket to kids in Watts, and with
Mustafa Khan (a 6'6 former Harlem Globetrotter) specifically with the kids at
Sheenway School & Culture Center. Now, with American College Cricket, and
the support of TV Asia,Coca Cola & Dish Network, the effort to bring the
game to kids in the "inner-city", as well as connect with baseball players has
been extended greatly.
Back on June 5, 2011 at the National Baseball Hall of Fame, American
College Cricket President Lloyd Jodah and 4 of his players played cricket with
Little League boys on the lawns as part of the "Swinging Away - How Cricket
& Baseball connect" Exhibition.
Jodah said, "Thanks to David Sentance, Mustafa Khan,Coach
Pickins, Mama Sheen & all who made this event happen. We hope to continue
coaching the Centennial HS Baseball team, and have them as special guests at the
next American College Cricket West Coast Championship.
Opportunities to connect high school kids with college, through
sports or otherwise, are valuable."
Disclaimer: Please use this channel at your own discretion. These articles are contributed by our users. We are not responsible or liable for any problems related to the utilization of information of these articles.