Playing in a National Championship is an accomplishment, and college sports
clubs get increased recognition by schools for doing so. Therefore every team
playing in the 2013 American College Cricket Spring Break Championship is
already a winner, and a major step further along in the development of cricket
in their college, the USA & Canada.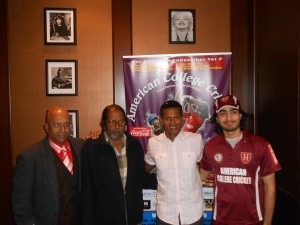 PHOTO: Lloyd,Colin Michael Jodah (1956-2013) Shiv Chanderpaul & Sher Tereen (Harvard)
This year 7 new college teams did the hard work required to play in their
first National Championship and excitement is running high, like a volcano about
to erupt.
University of Memphis, University of Texas-Arlington, West Virginia
University, University of South Alabama, Wayne State University, University at
Buffalo, Phoenix East Aviation and Harvard University will for the first time
share the sun and fun of Ft Lauderdale, South Beach & Miami, and compete on
the beautiful cricket fields of Florida.
The players will no doubt marvel at how much better the Florida fields are,
than those they get to play on in other parts of the USA. Interestingly the 7
new colleges are from 7 different states !
Sports pioneer Harvard, which started an official cricket team 150 years
ago in 1862, and was an important part of the birth of organized sports in
America, looks to re-establish itself as a cricket power.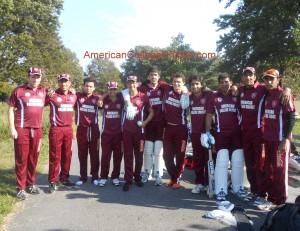 Top Newcomer of 2012 Murali Ankaraju, who scored 131 and 82 in the South
Central regional will be coming with the Memphis Tigers.
In just a few months South Alabama has made the Nationals, and UT Arlington
was just begun this Feb when student Umer Musharraf contacted Lloyd Jodah,
American College Cricket President and asked how to do so.
The clubs have received significant support from their
schools, and other supporters including Icore Infotech Inc
http://www.icoreinfotech.com/
(West
Virginia U),Samosa Hut & Grill, Currytos Restaurant & Dallas Premiere
League (UT Arlington), Michigan Cricket Assoc.(Wayne State),and Dr Shehzad Topiwala, MD (Phoenix East Aviation).
Some players will squeeze in school assignments and practically all will
have the best Spring Break of their lives. The National title & the Chanderpaul Trophy is at stake, and to the
players the opportunity to possibly play on TV is a dream ! Add to that possibly
playing in the ICC-Certified CBRP Cricket Stadium and the rewards for the
students' efforts are extraordinary and priceless !
Just like in March 2012, TV Asia will televise the Semis & Finals (on
tape-delay) with a professional 9 cameras production in HD with commentary,slo
mo replays,close-ups etc across the USA & Canada. TV Asia will also do
features on players & reports from the other matches.
The Championship will be dedicated to Colin Michael Jodah (brother of
Lloyd) who was an important part of American College Cricket.He died Jan 18 at age 56.
Disclaimer: Please use this channel at your own discretion. These articles are contributed by our users. We are not responsible or liable for any problems related to the utilization of information of these articles.