The American College Cricket season began on TV Asia as 3 matches of the Mid West Regionals were televised, ball by ball, from the Ohio State University campus. Last Saturday, Oct 27 the Finals were televised.
MID WEST FINALS - IOWA STATE vs OHIO STATE
The first regional championship of American College Cricket was hosted by the Buckeyes Cricket Club under its then President Romal Somavat. Somavat went on to be the 2010 Regional Tournaments MVP for on & Off the Field accomplishments as he was able to get OSU President Gordon Gee to attend. Somavat also smashed 97 and 55*. At the end of the Year Somavat was announced as a 2010 College Player of the Year.
For 2012 it was appropriate that OSU should defend the Gordon Gee Trophy it won in 2011, on its campus field. Its opponent Iowa State University had performed well at the Nationals, getting to the final 16.
Batting first the Iowa State batsmen couldn't get a handle on the OSU bowlers as Anupam Vivek and Somavat kept it tight putting pressure on the batsmen leading to Sannel Patel's run out by Rachit, and Nitin by Vivek. A wicket by Somavat and Iowa State was 19 for 3 !
Another run out and 2 wickets for 13 runs by Kislaya Kannan and Iowa State could only manage 73 before being all out in 16.2 overs.
Ohio State's Somavat made 15 as he and Kislaya Kannan put on 38 for the first wicket. Kannan delighted with gorgeous shots around the wicket giving TV Asia viewers a real look at some of the talent in American College Cricket.
Kannan's 45* in 28 balls with 5 fours and 1 six was an exciting demonstration of exquisite strokeplay as Ohio State retained the Gordon Gee Trophy, on TV Asia in the first cricket matches televised from a US college campus !
Ohio State captain Kislaya Kannan was the TV Asia Match MVP. SCORECARD & other stats :
http://www.crichq.com/matches/20151#inning1
UNIVERSITY OF IOWA HAWKEYES vs OHIO STATE BUCKEYES - televised on Oct 20
The University of Iowa Hawkeyes squeezed into the Semi finals of the American College Cricket Mid West Championship, but then had to face 2011 Gordon Gee Trophy winners, Ohio State.
Playing on their homefield on campus for the TV Asia cameras Ohio State was pretty confident, especially with Romal Somavat having rocked a century in a preliminary match vs College of Wooster.
Batting first Iowa found it tough going against OSU's bowlers, particularly Romal Somavat who struck early to make Iowa 17 for 1 after 3.2 overs. Somavat finished with 3 wickets for 13 runs in his 4 overs. For Iowa Gupta made 28 in 34 balls, hitting 2 fours as the Hawkeyes made 90 for 8 in their 18 overs.
Somavat, who always looks to attack,smashed 2 sixes before getting out at 19 but the Captain Kislaya Kannan,20, Neeraj 27 and Bodhi 12* steered the Ohio State Buckeyes to an easy win in 10.3 overs, losing only 3 wickets as Ohio State ensured they got to the finals of the Mid West Championship.
Romal Somavat was the TV Asia Match MVP. SCORECARD & other stats: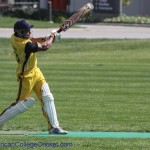 Disclaimer: Please use this channel at your own discretion. These articles are contributed by our users. We are not responsible or liable for any problems related to the utilization of information of these articles.