by Lloyd Jodah

Chants of Roll Tide will compete with roars of War Eagle as the University of Alabama is getting ready to take the field in real hard ball action against Auburn University & other SEC schools like the UF Gators in this Falls American College Cricket South East Championship !
Researching cricket back in 2008 I found that pickup games of tapeball was the main cricket being played on campuses, & the state of Alabama seemed to be an epicenter. American College Crickets Auburn University Cricket club has been hosting its BullDawg Tapeball Tournament for a number of years.
Now, the fierce rivalry between the UA Crimson Tide & Auburn Tigers will spill over into cricket due to Shoieb Shaik, a transferee from Auburn ! Shoieb graduated from Tuskegee University with his Masters, having spent a year at Auburn which counted towards his MS. Tuskegee University is renowned for the Tuskegee Airmen.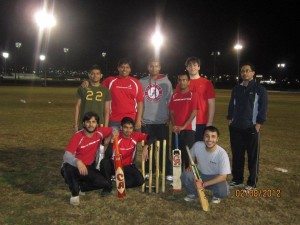 Shoieb then enrolled at Bama for his PhD in Electrical Engineering, and brought the thrilling experience of playing for Auburn at the 2010 American College Cricket Spring Break Championship. Having tasted the excitement he wanted UA to be a part of the American College Cricket movement & worked with fellow students to elevate cricket , and developing a hard ball team.
As Shoeib said, The club is now practicing with the hard ball, and is eager to face other SEC teams in Ft Lauderdale at the American College Cricket Championships.
The University of Alabama Cricket Club is also involved in community service in, and around campus, and helped remove tornado debris and rebuild houses.
Shoieb was ecstatic to bring American College Cricket to another university and said,The UACC wants to thank Lloyd Jodah, President of American College Cricket C you have been a tremendous motivator for all the cricket clubs around the USA & Canada; and left no stone unturned, to popularize the game.
The University of Alabama was founded in 1831, and now has over 31,000 enrolled, including 26,000 undergrads. The athletic teams are known as Alabama Crimson Tide, or Crimson Tide, or simply Tide.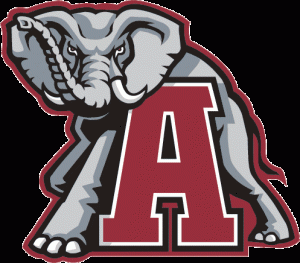 The elephant, named Big Al has been the unofficial football mascot since about 1930, & official from 1979.
The Tides football program began in 1893, and the nickname Crimson Tide began with a Alabama vs Auburn football game in 1907. There have been 76 games played in this rivalry (known as the Iron Bowl) with Bama leading 41-34-1.
Alabama football has won 14 National titles, 26 Conference titles (including 22 SEC) and currently has a .71 winning percentage, with a NCAA record 59 Bowl appearances. In 2011, under Nick Saban,UA defeated LSU in the National Championship game.
Six of the national championships were won under legendary Coach Paul Bear Bryant. However the game that gave UA football national prominence was a 1922 victory over the University of Pennsylvania. They have 1 Heisman Trophy winner in 2009s Marck Ingram.
Famous alumni include the NY Jets QB Joe Namath, Green Bay Packers Bart Starr, Seattle Seahawks Shaun Alexander, co-founder of Wikipedia Jimmy Wales, author & journalist Gay Talese, Morning Joes host Joe Scarborough & actress Sela Ward. Auther of To kill a Mockingbird Harper Lee attended but did not graduate.
Forest Gump attended the University of Alabama (as did the books writer Winston Groom). Though he did not play, were sure Gump would have been skilled at cricket. Roll Tide !
Disclaimer: Please use this channel at your own discretion. These articles are contributed by our users. We are not responsible or liable for any problems related to the utilization of information of these articles.